ABOUT PARKSIDE MAIN 8 THEATRE
Welcome to Parkside Theatre, Lake Oconee's premiere entertainment destination.

The Balcony Bar is open weekends- Friday through Sunday!
Gift Cards available: The perfect gift for any occasion. Good for movie tickets, concessions, & menu items.
Come to the movies anytime and still save. Super Saver Passes on sale now. $6 each. Sold only in bundle packages of 25.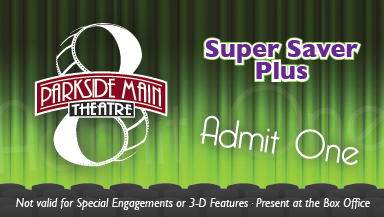 Celebrating your kid's birthday? Need space for a corporate venue, family reunion? Rental space and party rooms available at competitive rates. For pricing, booking information & availability contact us at movies@parksidemain8.com.
Advertise with Parkside Theatre. We offer different packages at affordable rates for pre-show advertising. For more information click here.
Hours of Operation:
Monday- 4pm – 8pm
Tuesday- CLOSED
Wednesday- CLOSED
Thursday- CLOSED
Friday- 4pm – 8pm
Saturday- 4pm – 8pm
Sunday- 4pm – 8pm
*Excluding Holidays
Parkside Age Policy and MPAA Regulations
Children under the age of 16 are not permitted on theater grounds past 8:00 PM without a parent or legal guardian accompanying them.
Minors under the age of 17 cannot purchase tickets for R rated films- nor can they view such films without a parent or guardian accompanying them.
G – General Audiences
PG – Parental Guidance Suggested
PG13 – Parents Strongly Cautioned
R – Restricted
NC-17 – No One 17 and Under Admitted